Access to a world-class AI scientific expertise and engineering through R&D collaboration partnerships.
We offer various collaboration schemes to accelerate your R&D and innovation project based on AI.

Submit a Partnership Proposal
As a first step, we invite you to express a proposal for a partnership with 3IA Côte d'Azur by filling a simple form.
After receiving your proposal, the process goes in 3 global steps:
We contact you for meetings to define the topics for a collaboration
Selection of the appropriate collaboration scheme
Contract elaboration & execution
The Collaboration Schemes
We propose the collaboration schemes that best suits to your needs. We have mainly three kind of collaboration schemes as follows
Scientific State of the Art
Short-term collaboration (1-6 months)
consisting in exploring technologies from the scientific state-of-the art proposed by the researchers and engineers to tackle your challenge, such as:

- Proof of Concepts
- Algorithm & Technology Evaluation
- Prototyping
Technology Transfer
Mid-term collaboration (6-12 months)
consisting in adapting to the Partner's business case existing technologies and algorithms from 3IA research. Perspectives are typically:

- Intellectual Property Acquisition
- Knowledge Transfer
- Startup Creation
Applied Research
Long-term collaboration (1-3 years)
around a research topic co-defined between the Partner and identified researchers, conducted by a recruited junior researcher by the Partner, such as:

- PhD Thesis
- Post-Doc Research
- Joint laboratories
The Partnerships Guide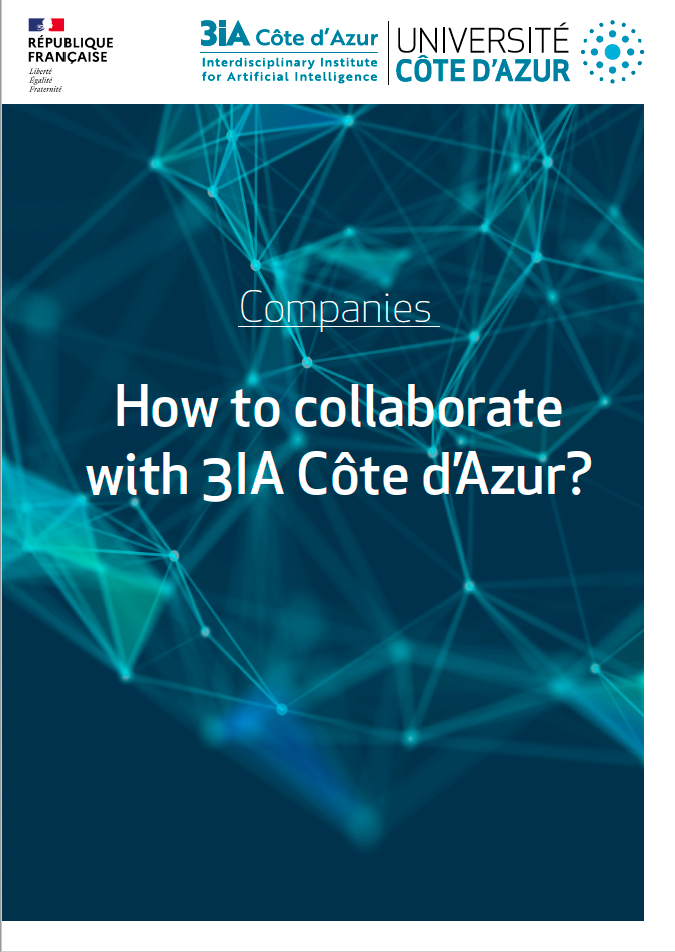 This guide explains how to collaborate with 3IA Côte d'Azur, providing the different schemes and modalities of collaboration.
Request and download the Partnership Guide to know more about the collaboration schemes and modalities.
REQUEST THE GUIDE
3IA Partnerships Webinars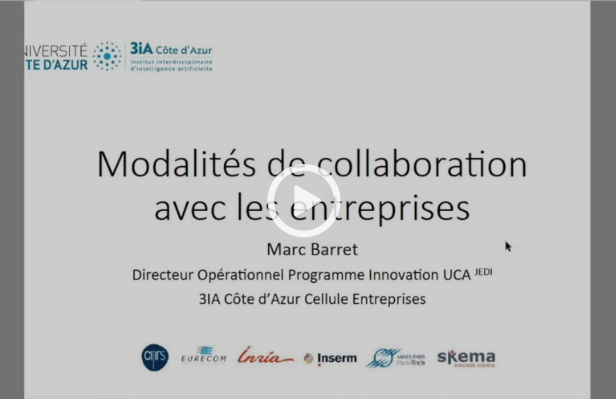 Attend live webinars to get information about 3IA Côte d'Azur, collaboration success story testimonials from companies and researchers, call for co-funded collaborative R&D projets, scientific and technologies offer.
Sessions are video recorded accessible on a dedicated page, together with the webinar program descriptions.
3IA Webinars Page
At 3IA Côte d'Azur project start, 62 companies subscribed the 3IA Côte d'Azur dynamics for collaborative R&D projects. These companies have planned a total of 10.8 M€ of investment in R&D collaborations.
4.27M€
Cash Income of Contracts
3IA early supporters
Companies that supported the 3IA project

| | | | | | |
| --- | --- | --- | --- | --- | --- |
| Accenture | Amadeus | | AzurSoft | CSTB | |
| Ellcie | | Kinaxia | | Mycophyto | |
| MyDataModels | NXP | Orange | Oticon | | |
| | Renault | SAP | TeachOnMars | | |
| | | | | | |
| | | | | | |
| | | | | | |
| | | | | | |
| | | | | | |
| | | | | | |
| | | | | | |
| | | | | | |
| | | | | | |
3IA new comers
New companies that have joined the 3IA and signed a new R&D partnerhsip contract

| | | | | | |
| --- | --- | --- | --- | --- | --- |
| | | | | | |
| Microport | | Quantificare | Toyota | | |
| | Regienov | | | | |
3IA partnerships under construction
New companies that are willing to join the 3IA with an opportunity for a R&D partnerhsip contract

| | | | | | |
| --- | --- | --- | --- | --- | --- |
| | | | | | |
| | | | | | |
| | | | | | |
| | | | | | |
| | | | | | |
| | | | | | |
| | | | | | |
| | | | | | |